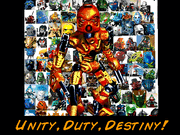 The Bionicle Protection Program is an organization created by members of this wiki to protest The Announcement that Bionicle would end.
You don't have to ask to join, just put your username on our official club page. We are going to write a letter to The Lego Group stating our opinions, as well as participate in other resistance programs.
Current News
Edit
Ad blocker interference detected!
Wikia is a free-to-use site that makes money from advertising. We have a modified experience for viewers using ad blockers

Wikia is not accessible if you've made further modifications. Remove the custom ad blocker rule(s) and the page will load as expected.